Choices for the newly-hired or newly-tenured
If you have previous service with another Minnesota public pension fund, you will automatically default to the TRA plan. Otherwise, you may choose either TRA or your Minnesota State IRAP.
Which is right for you? Depends on your personal circumstances. To make an informed decision, consider these questions:
Do you want the responsibility of making your own investment decisions and managing investment market risk and volatility?
How many years do you plan to continue working?
Do you plan to work in Minnesota for a significant period of time?
When you stop working, will you need access to the funds immediately or will you begin withdrawing retirement funds at a later time?
Do you like the idea of receiving a retirement benefit that is a specific percentage of your final average salary or a retirement benefit determined by the amount of contributions deposited to your account and the performance of your investment choices?
Does the plan offer survivor and disability coverage?
Is it important that you have a steady monthly income after retirement, or is an income that fluctuates acceptable?
Is there an annual administrative fee for having a retirement account?
As you review the plans and compare estimates, you will develop a sense of which plan might fit your retirement objectives.
Two chances to choose
There are only two points at which you can choose TRA: when you are newly hired and when you are newly tenured.
Newly-hired Faculty
As a newly-hired faculty member who meets eligibility requirements, you have a one-time opportunity to elect your primary pension coverage at no cost. During the one-year election period, you may choose to participate in TRA or the Individual Retirement Account Plan (IRAP) (Minnesota Statutes 354B.211). You should have received notification of your eligibility from your campus human resources representative.
Newly-tenured Faculty
As a newly-tenured faculty member, you have an opportunity to transfer retirement coverage from your individual retirement plan (IRAP) to TRA. The transfer can be expensive; it is a lumpsum payment of the full actuarial cost for the TRA lifetime annuity. You may use other retirement accounts (IRAP, SRP, TSA) to make the purchase. You are eligible to make the election to transfer retirement coverage to TRA at any time up to one year from your date of tenure.
College Supplemental Plan
In addition to participating in either TRA or IRAP, your participation in the College Supplemental Plan—a defined contribution plan—is mandatory. You may also choose to participate in a 457 deferred compensation plan or a 403(b) tax-sheltered annuity plan, which are also defined-contribution plans. Choosing to participate in the TRA defined-benefit plan will ensure balanced retirement planning.
TRA vs. other retirement plans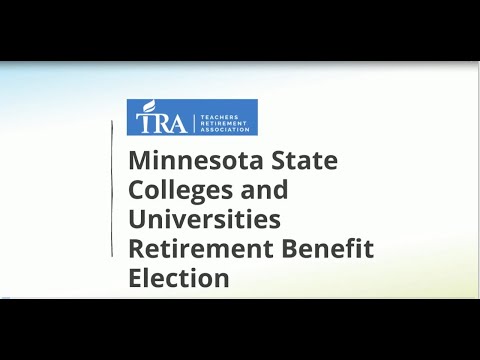 This video describes your retirement election options when employed with Minnesota State Colleges and Universities.
Defined-benefit Plan
TRA is a defined-benefit pension plan that provides a specific monthly amount at retirement. The benefit amount at the end of your career is "defined" by a formula that is based on your salary, length of service and age at retirement. The monthly benefits are determined by Minnesota law, not investment results. Investment decisions are made by experts at the Minnesota State Board of Investment for all participants of the group.
Defined-contribution Plan
A defined-contribution plan is structured like a 401(k) or Individual Retirement Account. You are responsible for deciding how to invest the funds. Investment results impact whether the account balance grows. The amount contributed by you and employer each year is "defined." The benefit amount available at retirement depends on savings rate and investment results. There is no guarantee that funds will last for your lifetime.
Here are the key differences between your TRA pension and other savings:
| | Defined-benefit pension | Defined-contribution savings plan: 401(k),403(b) |
| --- | --- | --- |
| Who bears the investment risk? | Plan bears investment risk. | You bear investment risk. |
| Who pays the investment fees? | Fees divided among members. | You pay investment fees. |
| Who manages my assets? | Minnesota State Board of Investment professional manage assets. | You manage your assets. |
| Can I take it with me? | If you change careers, you may request a refund or leave your contributions with TRA until you're ready to retire. | If you leave the teaching profession, you take your account with you. |
| What determines my benefit amount? | Predictable benefit based on age, length of service and high-five average salary. | Balance at retirement determines payments. You might outlive your funds. |